Latest From the Blog
Former Obama Defense Official Rosa Brooks: President Obama Is In Need Of An Intervention
Rosa Brooks, who served under President Obama as Counselor to the Under Secretary of Defense for Policy, Deputy Assistant Secretary of Defense, and then Special Coordinator for Rule of Law and Humanitarian Policy, offered her former boss some long-overdue advice in her new Foreign Policy Magazine piece:
"[P]ush the foreign policy 'reset' button."
In it, she recalls Obama's principled vision for U.S. foreign policy during his 2008 campaign, which won over the American people and the world alike. It offered a fresh new worldview and policy platform that departed dramatically from his predecessor's. She then contrasts that vision with where his foreign policy stands today — in shambles.
She highlights key regions that could be fairly portrayed as policy failures, including the Middle East, Afghanistan, Pakistan, Russia, China, Latin America, and Africa. On Obama's expanding drone campaign, she describes "a counterterrorism strategy that has completely lost its bearings — we no longer seem very clear on who we need to kill or why."
She lays these policy failures at Obama's door, describing him as having been a "visionary candidate," yet a President who "has presided over an exceptionally dysfunctional and un-visionary national security architecture — one that appears to drift from crisis to crisis, with little ability to look beyond the next few weeks."
The United States, she says, "needs more than speeches and high-minded aspirations." The President "needs to focus on strategy, structure, process, management, and personnel as much as on new policy initiatives." 
Brooks pulls no punches in her "intervention" attempt. She provides him with a 6-point plan of action to turn things around, should the American people grant him a second term.
A central theme that spans across many of these recommendations is a dysfunctional foreign policy team in which well-respected strategists and visionaries have been mostly replaced by inexperienced political hacks.
She describes an environment where: 
"The Strategic Planning Directorate has been reduced to a speech-writing shop."
The "National Security Staff (NSS) lacks the personnel or the depth of experience and expertise to be the primary font of policy."
"Nepotism trumps merit."
Cronyism "reigns supreme when it comes to determining who should attend White House meetings," thereby shutting out dissenting voices, "along with the voices of specialists who could provide valuable information and insights." This "guarantees uninformed group-think."
Two of Obama's three gatekeepers, National Security Adviser Tom Donilon and his Deputy Denis McDonough, are allegedly "jerks" and despise one another. "The nastiness demoralizes everyone and sends the message that rudeness and infighting are acceptable."
She describes the President as someone who, like his predecessor, has withdrawn into a bubble. He is heavily shielded by gate-keepers, rarely attends press conferences or interacts with members of Congress, never calls anyone.
She encourages him to implore staffers to play devil's advocate — to challenge the polices that Obama and his close circle plan to pursue, if only to highlight their weaknesses, and to make those who have his ear actually have to defend them. In short, Obama needs more dissenting opinions in the room.
Perhaps her harshest critique of the President is one which many of his earliest supporters have long complained about: Obama lacks a backbone. 
President Obama has sound moral instincts, but he often backs away from them at the first sign of resistance. He came into office with a mandate and Democratic control of both houses of Congress. Had he been willing to use some political capital — and twist a few arms on the Hill — in those early months, Guantanamo would be closed, and the United States might have a more coherent approach to national security budgeting. But on these and other issues, the president backed off at the first sign of congressional resistance, apparently deciding (presumably on the advice of the campaign aides who already populated his national security staff) that these issues were political losers.

Of course, it was a self-fulfilling prophesy; the issues became losers because the White House abandoned them. Ultimately, Congress began to view him as weak: a man who wouldn't push them very hard. As a result, Congress pushed back hard on everything, including health care, economic stimulus, and regulation of the financial industry, and Obama was forced to live with watered-down legislation across the board.

If he gets a second term, Obama needs to start thinking about his legacy, and that will require him to fight for his principles, not abandon them. Even if he fights, he won't win every battle — but if he doesn't fight, he won't win any. 
Sound advice.
Bank Of America And Billionaires Funded Republican & Democratic Conventions
OpenSecrets.org, one of the best sites for tracking money in politics, just tallied up the major funders of the Republican and Democratic national conventions, and their findings are revealing.
No surprises with the Republicans — the ones they are beholden to for having funded their extravaganza are mostly billionaires and huge corporations.
The biggest revelations came from the Democratic Party tally. As some anticipated, unions came up short for Obama's Convention this year. Having shelled out $8.3 million in 2008, they gave nearly 30% less. 
But not to worry, Obama had taken care of one moneyed interest group who was all too happy to step up. Bank of America practically self-funded the event, underwriting approximately 1/3 of its entire expense. And just to be sure they covered their bases, Bank of America also tossed the GOP $1.1 million for theirs in Tampa. 
This may provide a clue as to why bankers, whose fraudulent activities brought down the entire world economy, still seem to enjoy an unspoken immunity from any criminal prosecutions.
Small donors, incidentally, contributed a mere .00002% — not joking — of the RNC's funds. And only 6 people — you read that right — donated between $200 and $500. Hands-down, the RNC is an event entirely funded by the wealthiest few individuals and corporations in the nation.
The Democratic Party did better with small donors, as they provided 2.5% of the DNC's funds. And they did much better with donors contributing between $200 and $500: 1,558 contributed. Though the Democrats are still lopsidedly dependent on influence-peddlers, when compared to the Republicans' donor list they might actually tout these numbers.
Money Behind The Two Parties' Parties
The Republican Party, which held its 2012 convention in Tampa, FL, raised $55.8 Million. The following were some key contributors:
The Democratic Party, which held its convention in Charlotte, NC, raised $35 Million. The following were some key contributors:
Bank of America: $10.9 million (31.14% of total)
Unions: $5.9 million (17%)
Duke Energy (lobbied H.R.910 to keep EPA from regulating emissions of green house gases): $1.5 million (4.3%)
American Indian tribes (4 tribes contributed): $400,000 
James Rogers (Duke Energy CEO): $339,000
Tides Foundation (partially funded by Soros' Open Society Institute) : $310,000
Small donors (Total unitemized contributions of $200 or less): $866,000 (2.5%)
Number of donors giving between $200-$500: 

1,558 donors
Expand The Debate: Jill Stein VS Obama On Stopping The Outsourcing Of American Jobs
During a time when tens of millions of Americans find themselves unemployed, and hundreds of thousands of American jobs continue to move to low-cost labor countries, there is perhaps no single issue more important to America's economic viability than outsourcing. 
Obama, as a Presidential candidate in 2008, was consistent in naming what plagued the country's job crisis: Free Trade deals.  
In 2008, candidate Obama pledged to rewrite NAFTA and explained the problems of Free Trade:
About NAFTA, Sen. Obama said in a Democratic primary forum in 2007: "I would immediately call the president of Mexico, the president of Canada to try to amend NAFTA because I think that we can get labor agreements in that agreement right now. And it should reflect the basic principle that our trade agreements should not just be good for Wall Street, it should also be good for Main Street."

About free trade, Sen. Obama said at the same 2007 forum: "… people don't want a cheaper T-shirt if they're losing a job in the process. They would rather have the job and pay a little bit more for a T-shirt. And I think that's something that all Americans could agree to.
As a Senator in 2005, Obama voted against Bush's Central American Free Trade Agreement (CAFTA), citing the following as his reasons:
"There are real problems in the agreement itself. It does less to protect labor than previous trade agreements, and does little to address enforcement of basic environmental standards in the Central American countries and the Dominican Republic…

"So far, almost all of our energy and almost all of these trade agreements are about making life easier for the winners of globalization, while we do nothing as life gets harder for American workers."
But then Obama was elected President and, despite his promises, made no efforts whatsoever to renegotiate NAFTA. Instead he pushed through THREE job-killing 'Free Trade' deals of his own — the kinds he always criticized. The Korean 'Free Trade' Deal alone is expected to cost 159,00 American jobs. These agreements were opposed by a major majority of Congressional Democrats, and Obama could only get these NAFTA equivalent deals passed with the help of the Tea Party GOP Freshmen in Congress.
The days of Obama assigning blame to 'Free Trade' agreements for the outsourcing of American jobs are long gone. In the Hofstra Presidential Debate, Obama blamed tax loopholes that provide incentive for corporations to outsource. Fair point, but keep in mind that he made this same argument repeatedly as a Candidate in 2008, and did absolutely NOTHING as President to push any bills through Congress to address this offshoring tax incentive.
So it was refreshing to hear Jill Stein speak to this issue in Democracy Now's 'Expand The Debate' series:
So, if the question is how to stop the outsourcing of our jobs, it is very clear we need to stop expanding the Free Trade Agreements that send our jobs overseas, and which also undermine wages here at home by effectively threatening workers that if they don't drop their wages and their benefits that their jobs are gone.

We saw the first Free Trade Agreement NAFTA enacted under Bill Clinton, a Democrat. We saw it carried out under George Bush. But then we saw Barack Obama expand three Free Trade Agreements, and is now negotiating a secret Free Trade Agreement — the Trans Pacific Partnership — that will continue to offshore jobs, undermine wages, and as well, this time compromise American sovereignty with an international corporate board that can rule on our laws and regulations and say whether or not they pass muster. 

This is an absolute outrage against American sovereignty, democracy, and our economy. We need to turn the Free Trade Agreements into Fair Trade Agreements.

And again, the Green New Deal will create the community-based jobs we need here supporting small businesses, worker cooperatives, public services, and public works to put people back to work right now for less than the cost of the first stimulus package.
When you actually assess Obama's statements on trade, while factoring in his record as President, it is clear that he will continue to push job-killing 'Free Trade' Agreements — as will, of course, Mitt Romney. Jill Stein, conversely, intends to actually confront this most pressing crisis.
WATCH (Jill Stein starts at the 2:55 mark):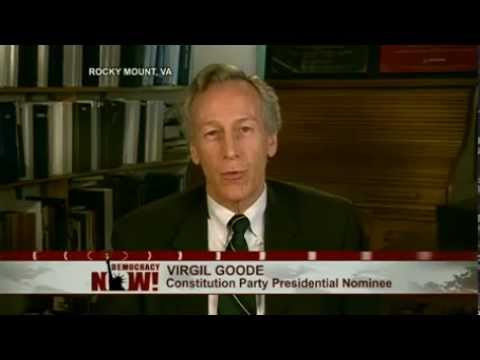 Fair Trade Comes Home: Fair Food Program Works To End Exploitation Of U.S. Farmworkers
Most coffee and chocolate aficionados are generally well-versed on the Fair Trade movement, which organized to offer producers in developing countries better trade deals than would normally be offered to them by large corporate purchasers.  Today's massive food conglomerates routinely leverage their purchasing power to negotiate prices so low as to all but ensure farmworkers suffer dire working conditions […]
The Debate: A Masterful Liar Defeats a Man Without Conviction (video)
Sr. Editor of The Real News Network Paul Jay invited York University professor Leo Panitch onto his show to discuss the first Presidential Election Debate, and why President Obama was virtually incapable of countering any of Romney's gross misrepresentations: JAY: So my headline take on the debate was Masterful Liar Beats Man without Conviction. What was your […]